Welcome to our website
news 21.2.2012
Candice Breitz: Extra!
Candice Breitz, Extra #13, 2011.
Candice's interesting video and photographic exhibition Extra! opened on 9 February 2012 at the Standard Bank Gallery.
The exhibition consisted of video displays including that entitled "Extra" where she can be seen giving bodily definition to actors comments in a TV show. Also on display are Chromogenic prints where the human figure has been removed to leave a white image suggesting that we are all "Ghost" of our lives.
This is Candice's first comprehensive survey exhibition of works to be presented in South Africa and runs at the Standard Bank Gallery in partnership with the Goethe-Institut and Goodman Gallery until 5 April 2012.
Candice Breitz,who was born in Johannesburg but now lives and works in Berlin, is an internationally renowned artist who has exhibited her photographs and video installations worldwide.
When Phillimon was asked about the works on display he commented that at first he did not like them and then the art warmed out to him bring questions to his mind as to why?
No bookings necessary to view the art but it is suggested that one contact Sue Isaac (011) 631-4467 or sue.isaac@standardbank.co.za for parking and as the Standard Bank Gallery is to be found in Johannesburg CBD
OF DREAMS AND NIGHTMARES
by JACO VAN DEN HEEVER
This exhibition documents the chronicles of an ever-changing landscape. It explores our resistance and adaptation towards change. The exhibition is on at Artspace Chester Court 142 Jan Smuts Avenue Parkwood http://www.artspace-jhb.co.za/ until 29 February 2012
An interesting black and white charcoal sketch showing of architectural drawings making one to recognise building which are oddly out of place. The artist has used names and other means to draw ones imagination to everyday buildings with a twist in the picture.
Gordon Froud opened the exhibition and gave a very interesting commentary.

For pics http://s1017.photobucket.com/albums/af294/zynbad/Art%20Scene/OF%20DREAMS%20AND%20NIGHTMARES%20by%20JACO%20VAN/



Something Like Now
An exhibition of black and white Ink on Paper sketches by Elsabe' Milandri opened at Salon 91, 91 Kloof Street, Cape Town on the 15 February and until the 10 March 2012.
The editor and partner caught the bus to the exhibition and disembarked at the Mount Nelson. Kloof street is directly behind the Lord Nelson complex. Getting to the venue allowed us to have a quick dinner at Arnold's which serves some interesting dishes including crocodile ribs and springbok steaks.
We then joined the viewers at the gallery and where impressed by the art. Elsabe' now in her late pregnancy was gracious to explain a few pieces to us. I especially liked the gorilla sketch as I have an affinity for wild life.
---
OF DREAMS AND NIGHTMARES Jaco van den Heever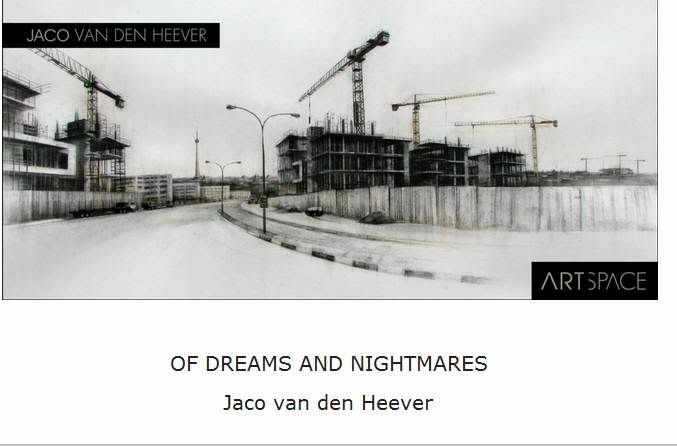 This exhibition documents the chronicles

of

an ever-changing landscape.
It explores our resistance and adaptation towards change
Pictures of the opening can be viewed by clicking here
---
Harry Erasmus paintings
Harry Erasmus BioHarry was born in 1961 in Pretoria, South Africa. He fell in love with art and everything about art at a very early age. Apart from his parent's encouragement, he had no formal training. Today he is grateful that he has learned to paint in his own way, for it enabled him to be more creative, daring and to develop a style of his own.
Over the years he exhibited annually in major exhibitions in South Africa . He is in various private collections in South Africa and abroad; countries such as Switzerland, Spain, France, U.K. and Canada. He just finished The Sun International Contract for Carnival City.
"I want to capture an intimate moment between the viewer and the painting. I paint what I see whether I am in the mind or realistically and not so much what I know about a form. I rather capture the illusion of the light and dark shapes, on the things, not the things.
My paintings must have a lot of presence, to seem uncomplicated while providing a complex message on many levels. The viewer should be drawn into its reality however the emotional response remains open to the viewers interpretations.
I dont always have something to say, thus I let the subject speak to me and I simply serve as the editor and interpreter for my audience. The subject matter is usually more profound and interesting than I am. It is this realization that freed me from fear of painting therefore I am not afraid to make changes.
When I begin a painting I have a general idea in mind but then it takes on a life of its own. I do not abadon my initial concept but rather allow the idea to evolve.
If I put to much detail in the painting I leave nothing to the imagination of the viewer.
By suggesting rather than describing the detail I involve the imagination of the viewer so they become an active participant in the painting. I order to express the graceful rhythm of the human figure in a sentimental or romantic atmosphere I allow large empty areas with loose edges that contrast against detail parts of hair, legs arms etc.
This creates a sophisticated design with a "lost and found" atmosphere making it turn in space and to help the viewers eye move over the painting more quickly.
I believe that magic happens when things are in a state of transitionequinoxes, adolescence- and I think the same can be true of act.
I most like the parts of my paintings that are neither abstract nor realistic, but are in an undefined state of transition."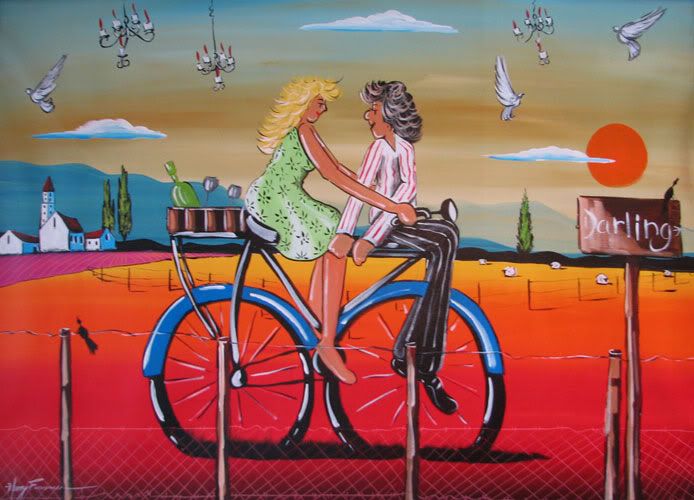 Darling ~ 1.2 m x 77 cm ~ R 7 500 ~ Framed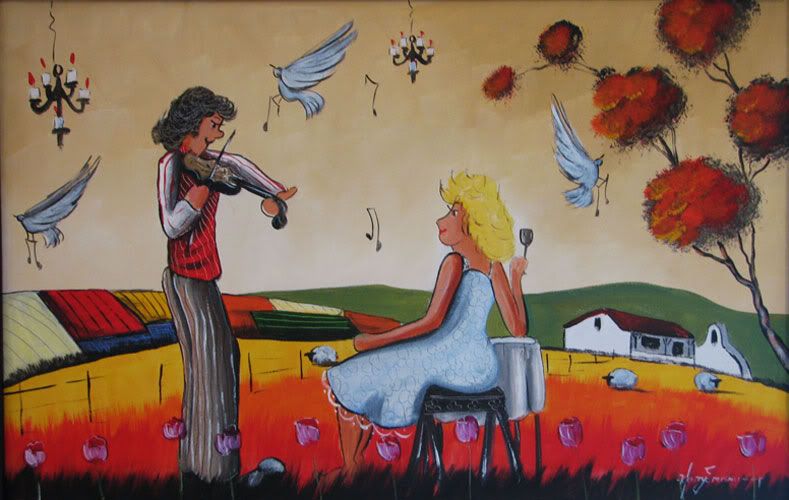 Serenade ~ 67 cm x 47 cm ~ R 3 950 ~ Framed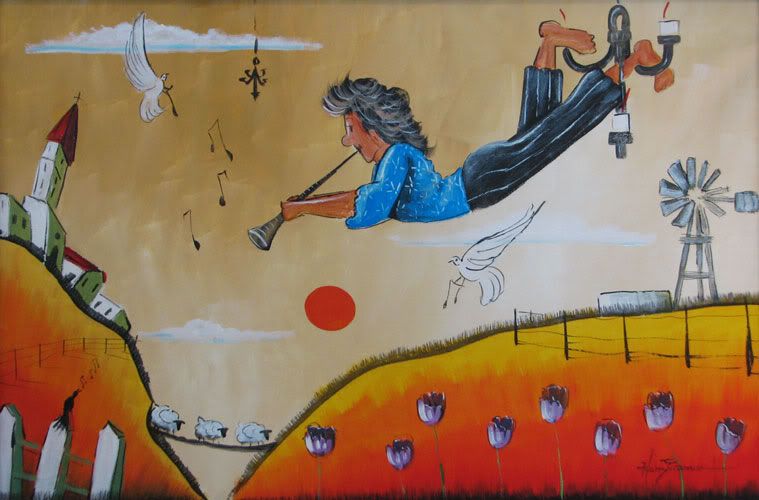 Musician ~ 67 cm x 47 cm ~ R R 3 950 ~ Framed
Please note that these prices exclude delivery.
---